Property Chains – Don't let them break you
Whether or not you have purchased a property before you have probably heard of the term 'property chain'. The term relates to the linking of house purchases. Here is an example of a very short chain: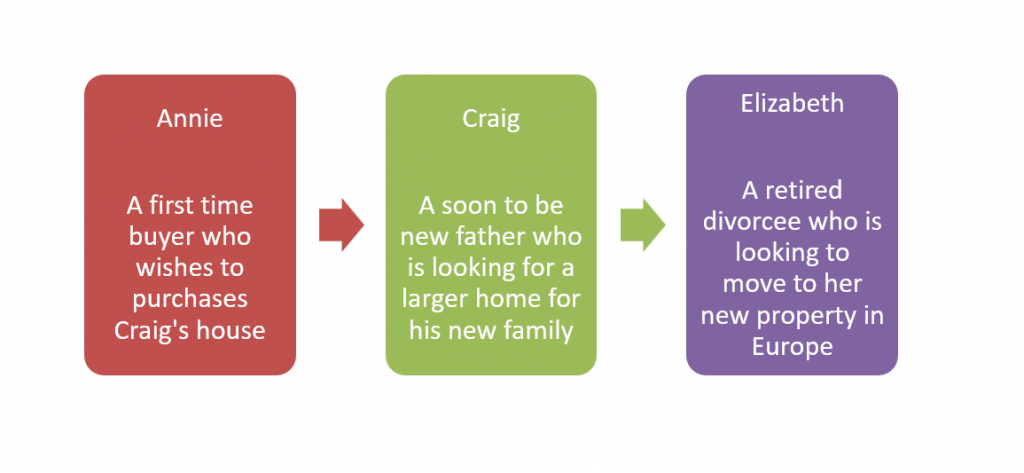 In this chain, Annie is a first-time buyer and therefore there is no one in the chain behind her. She is looking to purchase Craig's home. Craig is looking to purchase Elizabeth's home as it has the space he requires. Elizabeth has no one after her as she already has a property lined up but needs the cash from the house sale to make the move and fund her new life in Europe.
For Elizabeth to get the cash she needs, she is relying on Craig but also Annie. Without Annie's purchase of Craig's home, Craig would be unable to fund his purchase of Elizabeth's.
So, what happens if there is a break in the chain? Maybe it turns out Annie can't fund Craig's property or Craig has discovered something about Elizabeth's property in a survey that means he no longer wishes to purchase it. This is what is termed as a 'break' in the chain. Many chains can reach up to double figures in links and any issue can bring the whole chain collapsing down around you.
Before putting an offer in on a property it is important to ask if the sellers are part of a chain and if so, how long is that chain. It might make you think twice about putting an offer in but don't let it put you off. Most properties on the open market are part of chains so it will be hard to avoid.
If you are in a chain the important thing to do is to ensure you are doing every on your end to keep the chain moving. Ensure your finances are all in order and you have a mortgage in principle. Ensure that the next chain in the link is close to completion as best you can by staying in regular contact with your agent and solicitor.
For more property advice or expert help on selling your home contact us today. Our lines are open 24/7.